Important informations ONLY for the participants of the 20th Salsa Diabólica Summer Camp 2023!
Please check this site for the latest informations as many times you can! Latest update:10/08/2023 18:00
(10/08/2023)
Night Bar's opening hours:
Bar Laura at Europa Hotel will be opened at 08:00-00:00 every day!
Good news the bar at the big dance hall during the party hours will be OPEN.
Dress code- For more details, please see the bottom of the timetable (schedule).
Additional info:
We're plannig to have after parties at the restautant of Hotel Hungaria. For more details, please see the bottom of the timetable (schedule).
Beside the Salsa Diabolica teachers and DJ's please welcome to our special quest stars to the 2023 Diabolicamp! See they classes in the schedule! All artist are frequent member of main salsa and sensual events!
Hint: If you cannot find a class in the dancehall which was written in the original schecule, please try to find it in an other dancehall. Allfour dancehalls very close to each other!
Meals:
breakfast 7:00am-10:00am
lunch 12:30pm-14:30pm
dinner 18:00pm-20:00pm
Salsa groups:
1st shift: 10:00-11:30am and 19:30-20:30pm
2nd shift: 11:30-13:00am and 20:30-21:30pm
If you have any problem you can call Rozso +36209 378 013 or send him a  message on Messenger https://www.facebook.com/rodek.zsolt
The location of the camp: Hotel Hungaria and Hotel Europa (8600 Siófok, Petőfi sétány13-15.) (Http://hcseurope.hu/hu/) the two hotels belong to the same company, so it can be considered as a hotel with 2 buildings. The main building is Hotel Europa and the side building is Hotel Hungaria. Both have the same standards and facilities, Hotel Europa has 12 floors and Hotel Hungaria has 6, that's the only difference between the two buildings!
Apply to all guests of all hotels:
Arrival on the 14th August 2023 from 14:00pm (registration), the rooms will be cleaned and ready for the camp participant by 16:00 (first meal of the event is dinner on Monday)
Departure on the 20th August, till 10:00am !!! (last meal is breakfast on Sunday)
Touristic City Tax 550HUF/person/night must be payed at arrival to the hotel! It's reasonable to bring the exact amount of 6 x 550 = 3.300 HUF, so you shall not have to queue for change! Everyone staying in Hotel Európa or Hotel Hungária should pay this amount at a sesicated desk at the place of registration.
You can park in the closed car park 350 meters from the hotel for 2.500 HUF/car/night!
Free WIFI is availablel in the hotel Hungaria's lobby and Hotel Europa's lobby and in the rooms as well! All the room has bathroom, TV, fridge and balcony!
Parking information:
Hotel Europa and Hungaria do not have their own parking lot. They hire places in the nearby (350 meters) public parking. One may park on the street, there are free and paying places too. With or without booking is the same price 2.2oo HUF/night for parking, but if You have booked in advance when you registered, than You shall have Your place for sure, because we (the Hotel) will hire it for You (you have to pay it at arrivng at the reception).
Arrival-registration:
Arrival on the 14th August 2023 from 14.00 on (Departure on the 21th August 2023, till 10.00 am !!! )
You have to register in the main dance hall (200sqm) as well. Entrance is from the street at the small supermarket between hotel Euorpa and Hungaria (see the red path below)
Then you have to go to Salsa Diabolica's instructors (foreigners and hungarians queue in separate lines) who will check your ID card, and than give you the official camp wristband (we write your room number on it) and the colored wristband according to your dance level. To settle any financial issue ask for Rozso, In case there is none, next step is to pay the tourist tax at the hotel employees (cradit card accaptable). Thereafter, please pick up your welcome package. Everyone gets the T-shirt size indicated at the time of the online registration. If you are not happy with the size, there is a chance to change it at the SHOP on the second evening.
The final step is to go to your hotel (the room number starting with 'H' is for Hotel Hungaria, with "E" is for Hotel Europa)  and pick up the room key (in Hotel Europe the key is a card only)  at the reception by presenting the presentation of your wristband and your name. Untill Your arrival the room number might have changed to the one You did previously receive in e-mail.
After entering in the assigned room with Your heavy luggages you are considered as an ALL ACCESS participant of the 2022 Diabolicamp.
Attention: In hotel Hungaria there is only ONE key for each room!
The registration will be from 14:00pm to 19:00pm, if you arrive after 19:00pm please go immediately to Hotel Europa's reception and the receptionist will check in you. Your welcome package will be given next day in the afternoon in the SHOP (please ask it!).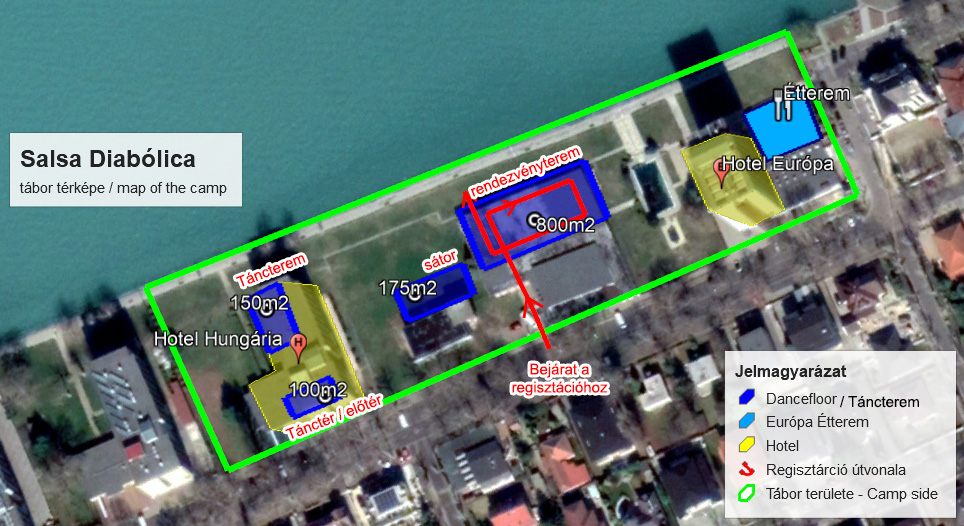 Our recommendations:
– There is a towel in every room, but it's not allowed to take this to the pool or beach, so it is recommended to bring your own, an extra to the towel provided by the hotel, You shall need it for that seven days, wich is a loooonng time indeed!
– Bring earplugs in case you might be disturbed by your snoring roommate or by the nearby disco music. We are close to loudy night and beach parties too!
– Hopefully we shall have a pleasant hot weather, so whoever has an electric fan do bring it! Raincoat is strongly recommended too, as you have to walk between dance halls only 30 meters in case of rainy weather.
– The hotel has its own 20-meter swimming pool!
– No matter which hotel are you staying at, Hotel Europa and Hungaria ground are the main base. Between these hotels there is a 250 meters long closed private beach of Lake Balaton. Only those may enter in this ground with the wristband which is required to be shown automatically at the reception (please show it to the receptionist without requested!)  It is our own interest that strangers should not sunbath on our little beach!
– Sunbeds, shade-umbrellas are FREE to use! Please take care of them because we have to pay for any damage! Please do not reserve them for the full day if you plan to use only for one-two hours!
– Between the two hotels, behind the main dance hall, there is a small boutique where drinks, snacks can bought for fair price, otherwise you can check several shops through the nearby Petőfi promenade!
On 18th of August Mai Rumba live concert
16th of Augustlive concert by Révész Richárd Latin Quartett feat. Yulaisy Miranda, Nádor Dàvid, Molnár Levente
in the afternoon 16.00-18.00 Révész Richárd és Yulaisy Miranda will has a workshop: UNDERSTANDING CUBAN MUSIC (instruments, explanations, orchestra)
Policy
or Frequently Asked Questions (FAQ)
answers for all questions (even the non-asked ones too…)
First of all our requests below are here listed for assure pleasure and joy for all participants, both for students and instructors. Having the experiences of several previous years' salsa camps and numerous similar events, we tried to express those expectations, that could help everyone to avoid unpleasant affairs or any other troublesome occurrence.
Have a nice time, a lot of groove and joy in our salsa camp! Vamos a bailar!
# 1 wristbands
Everyone  (instructor or student) must wear the wristbands – which meet all official hygienical requirements – during full time of the camp. We give two wristbands. One, which also has your room number on it, ensures that the hotel staff knows that you are member of the  camp and that you are entitled to have your meals at the restaurant. The room key will be given only to that person, who has the relevant room number on her/his wristband. The other band indicates the level of dance skills and that you can take part in those lessons which meet your level of dancing. Not all our instructors do know personally every student, although we have tried to appoint our teachers accordingly. We ask you all to ease our work by wearing these wristbands.
If anyone's wristband is damaged or broken, he/she must immediately notify an instructor about, so we can resolve its replacement. There is a limited number of available wristbands, so we ask EVERYBODY to take care as much as possible.
IMPORTANT: Entrance to the camp is possible only at the reception at Hotel Europa and Hungaria, whether you live in another accommodation, or just jump out for a quick snack or go for a walk, whenever pass the reception area, we ask you to show AUTOMATICALLY the camp wristband without warnings. Please do understand that this is for your own interest as we do not wish to allow any strangers to enter the camp.
# 2 accomodation
Campsite locations:
Hotel Europa and Hungaria – are the base (http://hcseurope.hu/en/)
Whichever hotel you are staying at, the wristband entitles you to use the services provided by Hotel Europa and Hungaria or the Salsa Diabolica Dance School in this area (classes, parties). Of course, if you stay in Hotel Lido, you can sunbath in Lido's garden, but yo can use the pool, sunbeds at the area of Hotel Europa and Hungaria as well.
There is no possibility to change rooms or roommates according those requested in the application form.
# 3 meals
The meal times are given in the schedule! Hotel Europa and Hungaria are hotels owned by the same company therefore  Hungaria and Europe hotels are considered as one hotel with two buildings and its restaurant can be found in Hotel Europa. Generally speaking, breakfast and dinner are served at the hotel you are staying at and lunch only in Europa
There is not enough room in the restaurant for all of us to eat at the same time, therefore, the timetable has been structured to overlap between meals and dance times. Hopefully, there will be no disruption. If, however, there are some timesstill ques, we ask you to be patient and tolerant to each other and also to our hosts who are doing their best for our feeling good. There will be plenty food for Everybody
# 4 location of workshops
We plan to teach In 4 locations, for 7 (6 hungarian 1 english language) groups, so despite the large number of participants a proper size class can be taught.
Our classrooms:
800sqm conference hall: (high ceiling, linoleum tapestry) is located between Hotel Europa and Hungaria (it's marked as "800m2" on the map) 175sqm event tent: (high ceilings, "bio-AIR-conditioning" – fresh air comes in when we open the side of the tent, wooden floor covered with linoleum) you will find it between the 800sqm conference hall and Hotel Europa ( is marked as "175m2" on the map)150  event hall: this is actually the restaurant of Hotel Hungaria, which is used as an event hall as well (air-conditioned, marked as "150m2" on the map) is in the Hungária building 100sqm hall: this is located in front of the reception of the Hungaria Hotel (next to the 200sqm room)
It can be said that there are no classes at Hotel Europe where we eat and sleep only and all classes held between the two hotels or at the Hotel Hungaria. The salsa party evening will be in the 800sqm conference hall with a view to lake Balaton (the SHOP will be there too), and the sensual party at the Laura bar on the ground floor of Hotel Europa which is between the reception and the restaurant
# 5 teaching levels
As we already have mentioned, wristband colors are to inform about students' level, which certainly makes easier to participate in workshops.
Since the number of participants is somewhat higher than last year, we created  different classes: 7 will be held in Hungarian and 1 in English. Subjectively one can participate ONLY in his/her own salsa class!
If one would like to attend to a lower level salsa class (comparing to his/her own workshop)  is also possible, in case instructor gives permission!
Generally gender ration shall not be equal, so most probably there will be more possibilities for change.
Since the number of students and size of halls have a determining effect on classification, it is not always possible for students in couple to join another workshop .
In each case it is the instructor who has the right to decide about!
We kindly ask you to respect instructors' decision!
This way we can avoid overcrowded and non-joyable workshops.
# 6 fakultative workshops
The facultative workshops will be in the 800sqm, 175sqm and 150sqm halls. Although these workshops are for all  regardless level we shall indicate the suggested level of these facultative classes in each case. In addition, we try to make it possible for everyone to choose between the classes held at the same time according to their level or interest.
# 7 dress code
At all workshops, being salsa or other facultative, regardless of sex, age or social affiliation, we kindly ask everyone to follow the below listed standards:
covered upper body (bikini top for ladies is NOT enough!!!)
sneakers proper use  for stone,tapestry,linoleum is highly recommended
lid or cap, if workshop held outside under strong sunshine
change sweated T-shirt, athlete polo or use towel between workshops if necessary
in the restaurant covered upper body is a must!
# 8 beginning of workshops
We try to begin workshops at the given time sharp, in order to finish on time. Please help us to make it possible by your in time appearance!!
# 9 our participations'guests
Receiving guests during the salsa camp is allowed ONLY outside the territory of the hotel! (beach, garden-yard)
Parties are also private, the right is reserved only for the 450 participants of the salsa camp.
We assure all rights ONLY for our students who paid all fees for the whole period of salsa camp, which includes the right to party every night in the hotel.
Organizers have the right to check and identify everyone, and if he/she does not havewristband, can ask to leave.
# 10 night parties
Parties start right after workshops and last till 02am and as all workshops shall start in the morning, so both students and instructors need  proper rest. Of course, later, during the second period of salsa camp, at the weekend we will expand its time a bit…
# 11 videos
Kubaisalsa Kft. /Address: 1083 Budapest Prater st. 52  V./30  tax reg. no:23464887-1-42, firm re.no:01-09-966796) mentioned as ORGANISER  does inform all participants about its 19th Salsa Diabolica Summer Camp held 15-21 August 2022 about the following: There will be photo-sound-video taken in workshops for use its official site  in Facebook for PR and documentation.
Accordingly during workshops, for participants shooting video is STRICTLY FORBIDDEN! Exception: to take videos only in the last 5 minutes of the workshop, when instructors can be asked to show figures or choreography.All these videos should be for private use only!
# 12 Wifi
Free WIFI is available on the ground floor of the hotel. Its speed is not suitable for downloading video or use of skype, but only to see letters! Code at the reception!
# 13 Room key
Each room has only 1, meaning ONE key. For couples or those, who move around together have less importance,but where are living 2 or 3 "strangers" together, it is important to drop the key after leaving the room at the RECEPTION! In case the room is closed, roommates will look for the key at the reception! The receptionist gives  the key  only for who has the proper room number on wristband.
It is recommended for roommates who  meet first as strangers, that after introducing should exchange right away phone numbers thus to ensure that each person finds  the other, who still holds the room key.
# 14 Timetable and programes online
As wifi is free in the hotel and we have our phone with us always, we strongly suggest  for ease exchange of infos, please do visit this site frequently!

We are happy, when You are, is a kind of our slogan, as the camp is organized for You and not for us. So in case You have a problem to be solved by the hotel(as asking for room cleaning or get a small pillow, etc.) or one You have to solve (how to reband Your shoolace,hahahaha) look for ROZSO to help: 0620-9378-013 Facebook messenger: https://www.facebook.com/rodek.zsolt
(in case he does not answer might be busy to get his children asleep or just solving a problem for somebody else) but he shall recall You certainly and shall  do all what he  can. But if we do not have info about any problem of Yours , we can not help…
We reserve the right to change the program!
Wish You a content- experience- and joyfull, pleasant, camp!
Salsa Diabolica
15% discount during the camp for the Salsa Diabolica Summer Camp's participants in Johhny"s bistro Siófok! YOu will get the discount by your salsa camp's wristband!